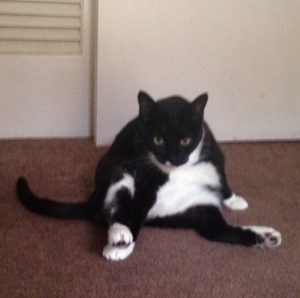 9-15-17
By Gail Carlson
Wouldn't we all like to have our pets live longer? Our pets age and it's an unavoidable part of life we wish that we would could better control. Our precious pets getting older is not a lot different than it is for people. Typical symptoms like slowing down, loss of energy or vitality, and then the onset of aches and pains or even diseases like kidney disease, skin allergies or even cancer. We at Auntie Gail's Happy Tails Pet Sitting and Dog Walking in Sunland-Tujunga, CA have cared for several older pets.
Consider the results of an older cat like Prince, an older cat sitting client in Lake View Terrace, CA. Prince the cat lived to the old age of 21. I am pretty confident that his owners regular fed Prince added enzymes it contributed to him living so long as it seemed to make a real difference with his health and vitality as he aged. Prince was a tuxedo cat with virtually no signs of his 21 years except his voice being like the crypt keeper. The only thing that was different for him than several other cats I've cared for was his grain free wet food and the "live" enzymes. You may want to talk to your veterinarian about this kind of diet for your aging cat or do your own investigating on adding enzymes to your cat's diet.
With senior dogs, I have seen great improvement with adding a twice daily joint supplement containing glucosamine, MSM, and chondroitin. There are several manufacturers that make this kind of dog supplement. I have noticed Shiloh (German Shepherd Dog) has had greater ease jumping, going up stairs, and have a softer fur coat. I've also noticed with my own mix breed dog that since adding Cosequin daily two years ago she still has a lot of spring to her step!
There are also some older dogs we at Auntie Gail's Happy Tails provide pet sitting for in Tujunga and Sunland, CA that have nagging itches and when scratched spread, and are really uncomfortable. Sammy the mix breed had a chronic itching problem that used to be treated with a reputable allergy medication used twice a day but it never really solved the itchy ears, belly and neck. Recently Sammy has begun taking the really amazing prescription drug (for itching) Apoquel and she's no longer itching. I have been quite impressed by the night and day change in Sammy's ears and belly that used to be red and inflamed.
There is a great deal to consider with pet nutrition so discussing various medical and natural products with your veterinarian to help your pets with chronic itching as no pet is identical and may have very different results than what I have seen to work.
We are so fortunate that our pets don't lie. The products either work or they do not. So, I urge you to love your pet by listening to them. We cannot prevent their inevitable passing but we can help them to live a better life while they are still here. They will talk to you in verbal sounds as well as in their body language. Look for the joy and thanks in their eyes when you have given your precious pet some truly golden years.
See you soon and your pets too.