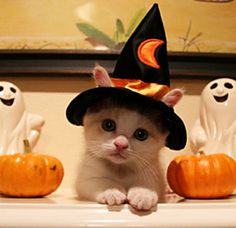 You may know that Auntie Gail's Happy Tails pet sitting and dog walking in the Foothills of La Crescenta, CA has been a member of Pet Sitter International (PSI), the leader in ongoing professional education for the professional pet sitter. PSI has these tips for the upcoming Halloween weekend, and we agree completely.
Here is what they say:
KING, N.C. (October 23, 2017) — Halloween continues to grow in popularity, with 179 million Americans planning to partake in the festivities this year, according to the National Retail Federation. But what may be a fun holiday for trick-or-treaters and party-goers can turn into a scary experience for pets if their owners don't take the proper precautions.
Pet Sitters International (PSI), the world's leading educational organization for professional pet sitters, advises pet owners to consider their four-legged family members when planning Halloween activities—and to take certain precautions even if they don't plan on celebrating.
PSI offers these simple tips to ensure pets stay happy and safe this Halloween:
1. Plan ahead so dressing up isn't a scary occasion. Pet costumes are an increasingly popular item at Halloween and throughout the year, and a pumpkin and a hot dog are the top two pet Halloween costume choices this year, according to the National Retail Federation.
While dressing your pet up may be a good photo opportunity, PSI reminds pet owners that some pets do not like costumes. If your pet does like dressing up, safety and comfort are the first things to consider when choosing your pet's costume. If the costume constricts movement, blocks vision or has multiple parts that could easily be chewed off, then it is not a good choice.
If you decide to put your pet in a costume, it is important to plan ahead says professional dog trainer Teoti Anderson. Anderson is the vice president of A Dog's Best Friend, a dog training company in South Florida, and author of multiple books on pet training.
"Once you make sure a costume will fit comfortably, introduce it to your pet—gradually—at least a week before you want him to wear it. Use lots of treats to associate it as something fun," Anderson advises. "For example, if you have a costume that wraps around a pet and is fastened underneath his belly, first lay the costume across his back. Give him some treats and remove the costume. Repeat a few times until the pet is comfortable. Then put the costume on, fasten it, give him some treats and remove the costume. Do this in short stages so he can get used to it. Keep your sessions short. If you take this time to get your pet used to wearing his costume, he'll enjoy it much better and be less likely to find it frightening."
2. Avoid "pet-rified" pets by keeping them away from trick-or-treaters. For pets that are easily frightened (or those not used to being around a lot of people, especially children), Halloween can be a real nightmare, explains Anderson.
"Imagine a pet who thinks children are scary, then put those kids in costume and to the pet, they truly become monsters!" Anderson says. "If your pet is shy, timid or wary around people, make sure he or she is kept away from trick-or-treaters. You can put your pet in another room with some soothing music and toys until the event is over."
For outside pets, PSI recommends pet owners bring them inside on Halloween night to avoid malicious tricksters who might try to frighten or harm animals. Also, a neighborhood that is normally quiet but becomes busy and loud on Halloween night can cause undue stress to outside pets.
3. Don't let sweet treats and decorations become your pet's nightmare. Halloween treats pose another danger for pets. While most pet owners are aware that chocolate and other candies can be deadly if ingested by pets, younger trick-or-treaters or non-pet-owning guests may not know. Halloween party guests and other visitors should be reminded not to share chocolate with the dog, no matter how much he or she begs. Keep some pet-friendly treats on hand instead.
As the popularity of this holiday continues to increase, so does the number of Halloween and fall-themed decorations. Pet owners should take special care to keep pets away from Jack-o-Lanterns with real candles inside and other Halloween décor that could cause harm if chewed or ingested.
4. Don't be tricked by pseudo-pet sitters. If your Halloween plans will keep you away from home, your pets could benefit from the services of a pet sitter. PSI advises pet owners to only use the services of professional pet sitters.
"Often times pet owners, and even news outlets, use the term 'pet sitter' carelessly, referring to anyone—from a family friend to the neighborhood teenager asked to walk a dog—as a 'pet sitter,'" explains PSI President Patti J. Moran. "It is important that pet owners understand that pet sitting is a professional career and professional pet sitters offer peace of mind that other pet-care options cannot."
Pet owners can download a free Pet-Sitter Interview Checklist and search PSI's Pet Sitter Locator free of charge at www.petsit.com/locate.
"Allowing someone into your home who is not insured, bonded or trained in pet care and giving them access to your pets—now that's a truly scary thought!" says Moran.
To learn more about PSI, visit www.petsit.com.
###
About Pet Sitters International
Founded in 1994 by Patti J. Moran, author of Pet Sitting for Profit, Pet Sitters International (PSI) is the world's largest educational association for professional pet sitters, with member pet-sitting businesses in the United States, Canada and more than 20 other countries. PSI has been the most trusted name in professional pet sitting for more than two decades, and PSI members have access to the widest array of business services and educational resources available in the professional pet-sitting industry. PSI's Official Pet Sitter Locator is the largest online directory of professional pet sitters, and pet owners can visit petsit.com/locate to find local professional pet sitters.
FOR IMMEDIATE RELEASE
Media Contact:
Meghann Evans
Pet Sitters International
meghannevans@petsit.com